Tue 14 Nov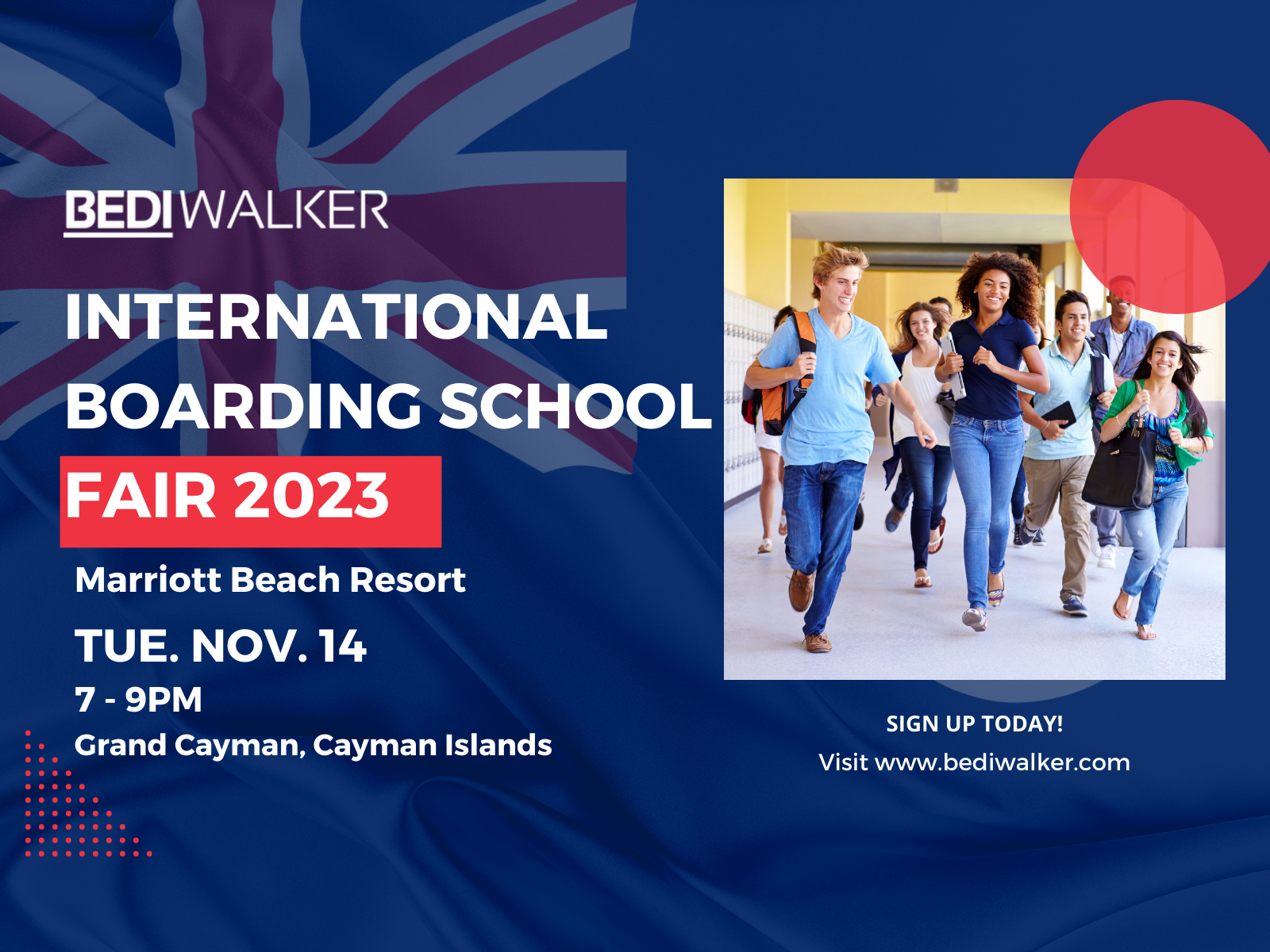 Bedi Walker Boarding School Fair
By: Bedi Walker
Date: Tue 14 Nov, 2023
Time: 7:00pm to 9:00pm
Join the International Boarding School Fair and speak with over 40 representatives from various Junior College Prep Boarding Schools (Grades 6 to 9), College Prep Boarding Schools (Grades 9 to 12).
The representatives will walk you through their school's academics, curriculum, extra-curricular activities, sports and cultural programmes and expose you to an entirely new educational experience.
The Fair gives parents and students the opportunity to learn first-hand about the application process, financial aid and the advantages of attending these prestigious educational institutions.
Register for the Fair at www.bediwalker.com.
For more information on the 2023 Boarding School Fair, contact:
Michael "Bedi" Walker at E-mail: info@bediwalker.com
The current list of participating schools is as follows (subject to change):
1 St. Andrew's College - Jarryd Stock
2 Trinity College (Canada) - Rebecca DeSilva
3 Bishop College School - Greg McConnell
4 Albert College - Tracey Colp
5 Admiral Farragut Academy - Jeff Ogden
6 Asheville School - TBD
7 Avenues Online - Amy Young
8 Avon Old Farms - Mickoy Nichol
9 Bolles School - Kila McCann
10 Buffalo Seminary - Carrie Auwarter
11 Chatham Hall - Caroline Fisk
12 Chesshire Academy - Mark Cheong
13 Choate - Rosemary Hall and Brianne Ellis
14 Concord Academy - Mbakwe Okafor
15 Emma Willard School - Katie Myer
16 Fay School - Matthew Greene
17 Kent School - Margaret Traub
18 Linsly School - Crissy D'Aquila
19 Masters School - Betty Matias Hsu
20 Menaul School - Laura Hillie
21 Middlesex School - Alex Fernandez
22 Miton Academy - Chris Lewis
23 Montverde Academy - Jill Clapper
24 Northfield Mount Hermon - TBD
25 Peddie - Susie Lloyd
26 Pomfret School - Kathy Sheehan
27 Stony Brook School - Luke Haywood & Nancy Cippitelli
28 Suffield Academy - Sean Atkins
29 St Andrews Boca - TBA
30 The Webb School California - Jeff Stodgel
31 Trinity-Pawling School - Kim Defonce
32 Walnut Hill - Andrew Houlihan
33 The Webb School - TN Tommie Goodloe
34 Westover School - Christine Mitchell-Robinson
35 Windermere Prep School - Amy DeBakey
36 Westminister School - Kelly Babbidge
Location
Marriott Beach Resort, Seven Mile Beach
Grand Cayman
Directions