Tue 21 Mar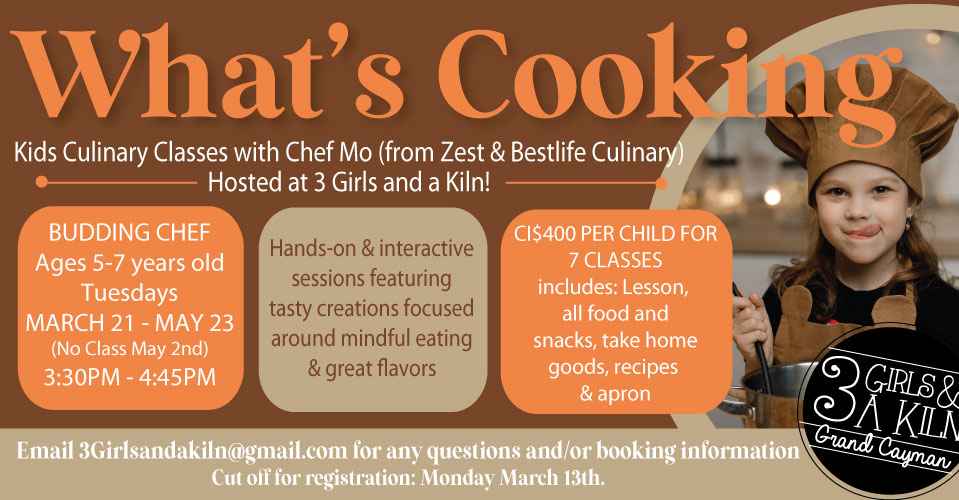 Budding Chef 'What's Cooking' Classes, 3 Girls and a Kiln
Date: Tue 21 Mar, 2023
Time: 3:30pm to 4:30pm
After-school 'What's Cooking' classes are hosted at 3 Girls & a Kiln by Chef Mo Cubbon from Zest and Bestlife Culinary. Budding chefs will experience hands on and interactive sessions featuring tasty creations focused around mindful eating and great flavours.
Two Sessions are Available:
BUDDING CHEF

Ages 5-7 years old Tuesdays March 21st - May 23 (no class May 2nd) 3:30PM-4:45PM

JUNIOR CHEF

Ages 8-12 years old Wednesdays March 22 - May 24 (no class May 3rd) 3:30PM-4:45PM
Per child for 7 classes includes: Lesson, all food and snacks, take home goods, recipes and apron.
Pre booking required, cut off for registration: Monday March 13th.
Email for booking and info!
Pricing
Per child (7 sessions)
$400
Location
3 Girls and a Kiln, 47 South Church Street
Grand Cayman
Directions