Sat 17 Jun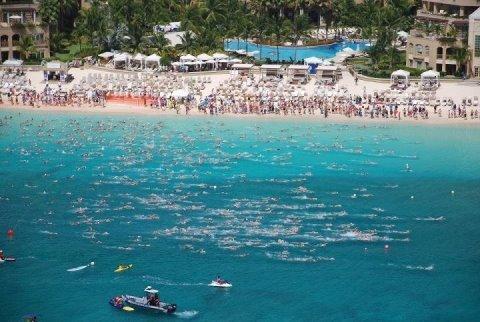 Flowers Sea Swim Grand Cayman
By: Flowers Group
Date: Sat 17 Jun, 2023
Time: 2:30pm to 5:00pm (Check in: 12.30pm)
Three decades ago the tradition of the Flowers One Mile Sea Swim began. As the event swims into its 31st year, you are invited you to participate in what has come to be considered a must-do event for open water aficionados and has been named one of the World's Top 10 Open Water Swims.
The Flowers Sea Swim is Grand Cayman's flagship sporting event – each year hosting 1,000 registered swimmers. Participants vary in age from 8 to 80 years old and in skill from novices and first-timers to gold medal Olympians and world championship open water specialists from around the globe. The Flowers Sea Swim welcomes Swimmers from all strokes of life!
The unique draw of the Flowers Sea Swim is not only its flawless course conditions along Cayman's beautiful Seven Mile Beach but the numerous random prizes. The race is the world's richest open water event with over $100,000 in cash and random prizes. The odds to win a random prize are 1-in-7 and previous giveaways have included smartphones, tablets, hotel stays, and dozens of airline tickets to premier destinations such as Miami, New York, Panama, Rome, Los Angeles, Las Vegas, Chicago, London, Dublin, Rio De Janerio, and Toronto. All finishers receive a fantastic t-shirt and goody bag filled with prizes and surprises!
Location
Seven Mile Beach, starting at Coral Beach (Royal Palms) and finishing at the Ritz-Carlton.
Grand Cayman
Directions